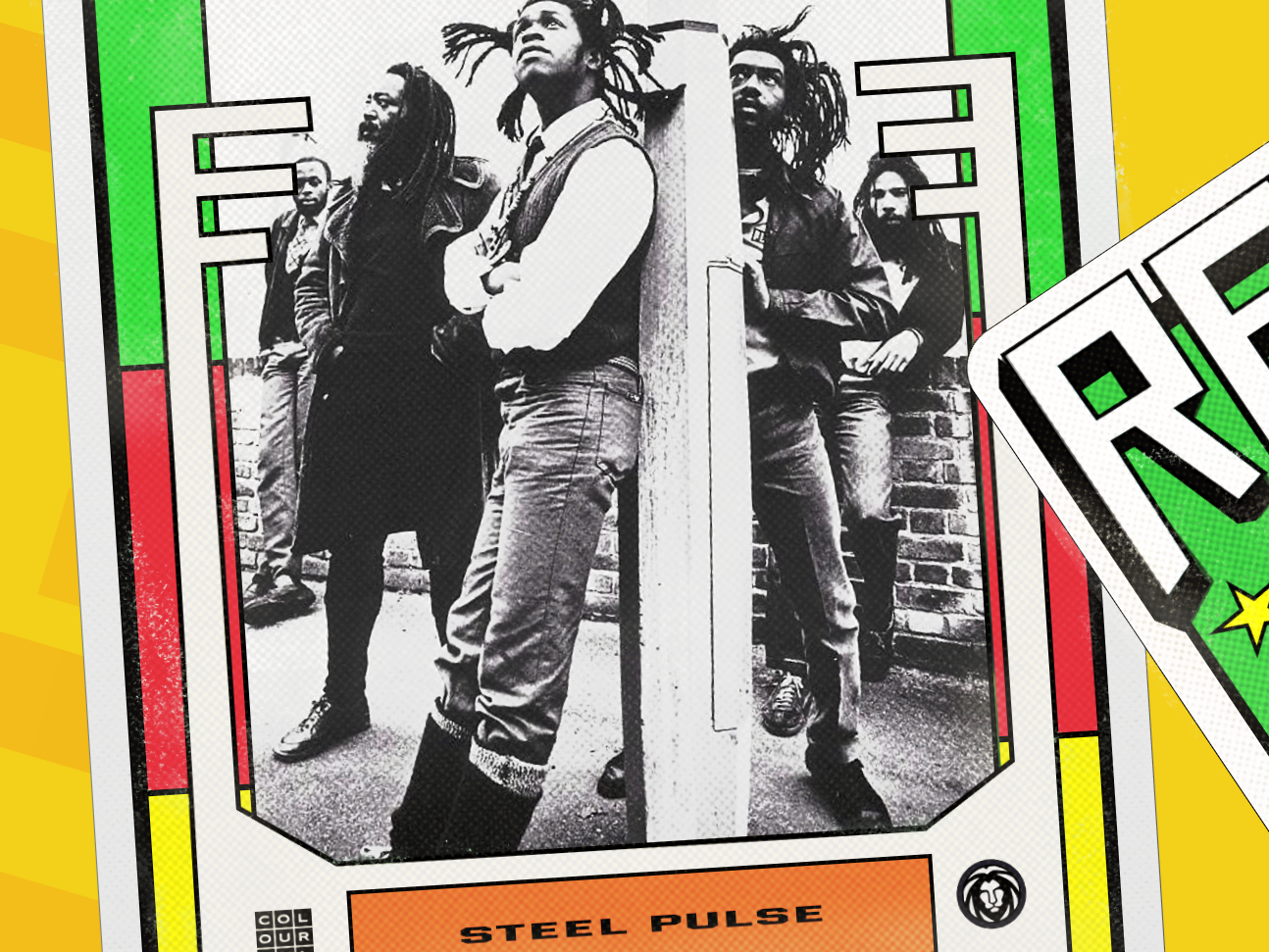 Basil Gabbidon and David Hinds were inspired to form Steel Pulse in 1975 after they heard Bob Marley and The Wailers' Catch a Fire.
Soon after, they recorded the single "Kibudu, Mansetta And Abuku" on Dip - a small independent label. The song spoke to urban black youth with the image of a greater African homeland. They followed it with "Nyah Luv" for Anchor.
They were initially refused live dates in Caribbean venues amd in Birmingham due to their Rastafarian beliefs. During the rise of punk rock in the mid-1970s, Steel Pulse began to play punk venues such as the Hope and Anchor in London and The Electric Circus in Manchester in 1976.
As their own notoriety grew, they eventually they won support slots for Burning Spear, which brought them to the attention of Island Records.
Their first release for Island was the "Ku Klux Klan" single. The group evolved to include Selwyn Brown on keys, Steve "Grizzly" Nisbett on drums, percussionist Alphonso Martin and vocalist Mykaell Riley.
Their debut album came in 1978. Handsworth Revolution became part of the evolution of roots reggae outside Jamaica. Three albums later, critical acclaim and some commercial success followed. The band made their US concert debut at the Mudd Club in New York in 1980.
In 1982, the band moved to Elektra Records and released True Democracy - which included the eulogizing of Marcus Garvey in the seminal 'Rally Round' cut. They followed up with Earth Crisis in 1984 and released Babylon The Bandit in 1985, for which the band won a Grammy award.
Their next move to MCA saw the band release State of Emergency (1988) and the Rastafari Centennial - Steel Pulse's first live record, which was recorded live at the Elysee Montmartre in Paris, over three nights in January 199. It was dedicated to the hundred year anniversary of the birth of Haile Selassie.
They group found distinction stateside. They were the first reggae band to appear on the Tonight Show and in 1989 contributed I Can't Stand it to the soundtrack of Spike Lee's Do The Right Thing.
In 1994, the group headlined some of the world's biggest reggae festivals including Reggae Sunsplash USA, Jamaican Sunsplash, Japan Splash and Northern California annual Reggae on the River Festival. In 1986, Steel Pulse contributed a version of "Franklin's Tower" on Pow Wow Records' Fire on the Mountain: Reggae Celebrates the Grateful Dead compilation. They recorded The Police's "Can't Stand Losing You" for a reggae compilation of Police tunes that appeared on the Ark 21 label. Rastanthology, a 17-song collection of Steel Pulse classics (the 1996 compilation was released on the band's own Wise Man Doctrine label).
In 1997, the band released Rage and Fury and returned to their revolutionary roots with African Holocaust in 2004.
Their latest album - Mass Manipulation in 2019 - was nominated for Best Reggae Album at the 2020 Grammy Awards.
This was their fifth nomination in an illustrious career.